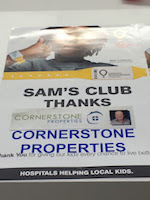 Thursday, June 18th:

This summer is off to a great start! The season is almost always busy with a spike in tenants moving in and out, and this year is no exception. The business side of the company is jam-packed with work, making sure that we stay on top of affairs and serve our client's and tenants' needs as best we can.
However, we got a nice little reminder of the other side of Cornerstone Properties this week - the side that gives back to its community. At Sam's Club in Honolulu earlier this week, this banner was spotted hanging from the walls right next to the exit. We at Cornerstone Properties have been a part of the Children's Miracle Network ohana for quite some time now, and wholeheartedly believe in the difference that they are making with many local keiki. Thank you Sam's Club for the shoutout! And keep up the great work, CMN; you'll have our support in all of your endeavors.
Posted By:
Andrew Frazier